Filter by Category
Health and Wellness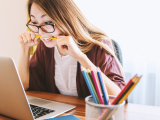 Navigate Life. Navigate Stress: Manage Stress, Time and Relationships Better
with Elise Tofias Phillips

Mar 1, 2023 at 6 pm
Are you juggling multiple balls in the air with your busy professional and personal life? Are you always trying to develop strategies that can help you to navigate your life? Would you like to be able to manage stress, time, and relationships better?
During this 4 -session zoom course you will learn innovative, practical strategies to help you to navigate your life by managing stress, time, and relationships. You will learn positive communication strategies to enhance the relationships in your life and techniques to manage your time and stress. Through exploration of your personal life management skills, we will build strength and resilience for a more balanced, healthier, and happier life. Give yourself a gift and join us, continue to be a lifelong learner, and promote positive wellbeing skills that will help to navigate your life.

You will learn:
Positive communication techniques for healthier relationships
Stress management skills to decrease your personal stress
Time management techniques to enhance managing the details
What's Next? It's Your Time! (WED259-65)
with Elise Tofias Phillips

Apr 12, 2023 at 6 pm
Discover your superpowers, plan for your next phase of life, for mature and savvy women 
You've accomplished a lot. You may have raised a family. You have built a career. You have worked hard. This next chapter is about you and what you want to do. This 4-week  interactive, educational, and supportive workshop will set the stage for exploration,  discovery, and design. It will help you to navigate next steps and explore possibilities with a well-being lens by clarifying values, and focusing on self-care, relationships, interests, and techniques for health, happiness, and balance. There are enormous possibilities for growth during this time of your life. Discover your superpowers, understand, and live your values. Your way.  
Questions we will consider: 
Thinking about a different career choice?  
Preparing to retire at some point? 
Learning to navigate the many relationships in your life? 
Figuring out a new self-care routine? 
Looking to follow your dreams and values for your next chapter? 
Course Format
Take this course from the comfort of your home or office! This course is offered remotely using Zoom. Zoom guidance and instructions will be provided prior to the start of class. 
About the Instructor
Elise Tofias Phillips, MEd, is the CEO of Navigate, Health and Wellness Coaching and Consulting. She has developed an innovative, interactive, and engaging behavior change approach through her consulting and coaching, and is passionate about working with her clients. She has worked in health education, health promotion, health and wellness coaching, and health communications her entire career. She has held positions as the Founding Director of the Office of Health Promotion and the Health Coach Institute at Boston College, the Director of Health Education at Simmons College, Manager of The Be Well! Tanger Center for Health Management at Beth Israel Deaconess Medical Center, and taught in public and independent schools. She is a certified Health and Wellness Coach and Intuitive Eating Counselor through WellCoaches and Intuitive Eating Pros. Elise received an M.Ed. from Boston University and B.S. from Ithaca College. 
Questions
Call Mary Conklin, Program Coordinator, at 508-375-5010 or email workforce@capecod.edu.