Filter by Category
Project Management
Essential Skills for the New and Emerging Manager (WGB155-62)
with Rich Weissman

Sep 16, 2021 at 9 am

, runs for 3 weeks
Date: Thursdays, 9/16/21-9/30/21
Time: 9am-12pm
Format: This class is offered in a hybrid format. The sessions on 9/16 and 9/30 will be held in person in Hyannis while the 9/23 session will take place LIVE via Zoom with the instructor from 9a-12p. The Hyannis Center is located at 540 Main Street, Hyannis. 
Course Description:
In the New and Emerging Manager Program, students will analyze the traditional and leading-edge fundamentals of management and develop and hone a personal management style that best suits them and their company. Students will explore the differences and similarities of managing and leading, identify issues around employee motivation and employee development, improve the use of teams and teamwork, enhance communication, and explore diversity, cultural, and generational issues in the workplace. By the end of this session students will not only be better managers, but a more valuable employee that will be appreciated by their own management team.
Who Should Attend?
This is a great program for someone looking to become a manager or for someone who just received a promotion to a management level position. This course is also ideal for employers who may be looking to promote a new manager on their team. 
About the Instructor:
Rich Weissman is an experienced supply chain management practitioner and educator. He works with businesses to build scalable and sustainable supply chain strategies. His focus includes strategic sourcing, sales and operations planning, process improvement, and sales and customer service management. Weissman teaches operations and supply chain management, strategy and policy, entrepreneurship, and managerial economics at the graduate and undergraduate levels, and writes and speaks extensively on issues impacting the global supply chain. He has more than twenty-five years of hands-on experience in procurement and supply chain management for Boston area manufacturing and service companies. He is past president of the Purchasing Management Association of Boston (ISM-GB) and the recipient of the Harry J. Graham Memorial Award, the highest honor bestowed by the Association. Weissman earned an MS in Management from Lesley University and a BA in Economics from Rutgers University.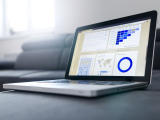 Project Management Essentials (WPG029-62)
with Frank Hughes

Oct 1, 2021 at 9 am

, runs for 2 weeks
Date: Fridays, 10/01/21-10/08/21, 2 sessions
Time: 9am-3:30pm with a 30 minute lunch break
Format: In Person
Location: Hyannis Center 540 Main Street, Hyannis
Course Description:
Effectively managing multiple projects, resources, and budgets is critical in today's global business environment. This Project Management course, held over two weeks, will allow you to take a deep dive into the roles and responsibilities of the project manager, examining project management in theory as well as in practice. This course offers a practical approach to managing projects, without requiring any previous project management experience. Participants will focus on organizing, planning, and controlling the deliverables of the project using good practices.
This course will examine project management roles, the project lifecycle, and various techniques of work planning, control, and evaluation to achieve project management objectives using system tools and project management philosophies.
Who Should Attend?
This is a great program for those who are responsible for managing multiple projects or anyone who works in a fast-paced environment and is looking to become more organized and effective in their work. 
About the Instructor:
Frank Hughes, Jr. is a Six Sigma Black Belt project manager who is currently the Director of Client Services and Academic Computing at Massasoit Community College.  Frank has worked at some of the largest companies in the world, including State Street Corp and British Telecom, with stops at Curry College and Convention Data Services along the way.  While at BT and CDS, Frank developed his simple and straightforward project management philosophy of Design / Implement / Accept which follows a project and its team from beginning to middle to end.  Frank believes strongly in Good Practice and Good Process to develop strong products and services.
In Frank's spare time he can be seen on stage on Cape Cod, and when not on stage Frank likes to write, having published several novels and short stories.