Filter by Category
Certification Preparation Programs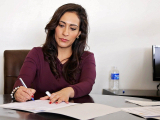 Society for Human Resource Management Certified Professional (SHRM-CP) Exam Prep Course
with Kimberly Matthews

Oct 5, 2022 at 6 pm

, runs for 12 weeks
The SHRM-CP certification is for individuals that perform general HR/HR-related duties; or for those pursuing a career in Human Resource Management.
Candidates for the SHRM-CP certification are not required to hold an HR title and do not need a degree or previous HR experience to apply; however, a basic working knowledge of HR practices and principles is recommended.
The SHRM-CP exam is designed to assess the competency level of those who engage in HR work at the operational level. Work at this level includes duties such as implementing HR policies, supporting day-to-day HR functions, or serving as an HR point of contact for staff and stakeholders.
Refer to the SHRM BASK for detailed information on proficiency standards for this credential (i.e., Proficiency Indicators only For All HR Professionals).
Course Format:
This is offered in an online/remote learning capacity with remote sessions on 10/5, 10/19, 11/2, 11/16, 11/30, and 12/14 from 6-9pm. Zoom guidance and instructions will be provided prior to the start of the course. 
Attention Employers: This Training is Eligible for Reimbursement!
Course ID #1133061. Click here for eligibility and application process information. 



Wilderness First Aid (WPG625-66)
with Kevin Rosenberg

Oct 8, 2022 at 9 am
Accidents happen. People get hurt, sick, or lost. The temperature drops, the wind picks up, and it starts to rain. Would you know what to do? Many backcountry emergencies are preventable, and even when bad things happen, sometimes the wrong care can make things worse. By learning a few basic skills, you can make the difference between a good outcome and a bad one-and maybe even save a life.
The Wilderness First Aid (WFA) training is the perfect course for the outdoor enthusiast or trip leader who wants a basic level of first aid training for short trips with family, friends, and outdoor groups. It also meets the ACA guidelines.
The WFA is 16 hours long (two days), and focuses on the basic skills of: Response and Assessment, Musculoskeletal Injuries, Environmental Emergencies, Survival Skills, Soft Tissue Injuries, and Medical Emergencies.
Class Format
This program is offered in person. All programs with in-person (on campus) classroom instruction at Cape Cod Community College require students to provide proof of COVID-19 vaccination prior to participation.