Filter by Subcategory
Environmental Programs
Wilderness First Aid (WPG625-65)
with Kevin Rosenberg

Mar 25, 2023 at 9 am
Accidents happen. People get hurt, sick, or lost. The temperature drops, the wind picks up, and it starts to rain. Would you know what to do? Many backcountry emergencies are preventable, and even when bad things happen, sometimes the wrong care can make things worse. By learning a few basic skills, you can make the difference between a good outcome and a bad one-and maybe even save a life.
The Wilderness First Aid (WFA) training is the perfect course for the outdoor enthusiast or trip leader who wants a basic level of first aid training for short trips with family, friends, and outdoor groups. It also meets the ACA guidelines.
The WFA is 16 hours long (two days), and focuses on the basic skills of: Response and Assessment, Musculoskeletal Injuries, Environmental Emergencies, Survival Skills, Soft Tissue Injuries, and Medical Emergencies.
Class Format
This program is offered in person. All programs with in-person (on campus) classroom instruction at Cape Cod Community College require students to provide proof of COVID-19 vaccination prior to participation.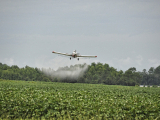 Pesticide Applicator License Exam Study and Prep Course (WPG562-65)
with Gabrielle Sakolsky

Apr 11, 2023 at 6 pm
This live stream remote training will provide you with all the information you need to successfully prepare for the Massachusetts Pesticide Applicator's License Exam. The program will include an overview of state and federal laws and regulations, groundwater protection, application techniques, and integrated pest management, as well as pesticide safety, including toxicity, labeling, personal protective equipment (PPE) and non-chemical alternatives.
Pesticide professionals can use this program as a review to earn their Continuing Education Credits (CEUs). This is a four hour training program consisting of two sessions.
Class Format:
Take this course from the comfort of your home or office! This course is offered remotely with scheduled (live) Zoom sessions.