Filter by Category
Career and Employment Preparation Programs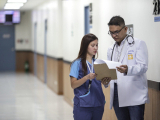 Medical Assistant Review and Exam Preparation Course (WHN039-66)
with Eva Stanley

Jan 11, 2022 at 9:30 am

, runs for 10 weeks
Date: Tues./Thur., 1/11/2022-2/15/2022, 10 sessions
Time: 9:30am-12pm
Format: Livestream via Zoom with in-person mock testing on 2/15/2022 at the Hyannis Center, 540 Main Street, Hyannis
Course Description
This course will review the material contained in the Medical Assisting Certification exams including the CMA (AAMA), RMA (AMT), and CCMA (NHA).
Subjects include:
Medical Assisting Scope of Practice in MA.
Anatomy & Physiology and Medical Terminology
Specific concerns of the professional medical assistant in communication, physical history, and coaching patients.
Review of specialty skills such as EKG, phlebotomy, and point of care testing.
Ethical and Legal Concerns
Upon completion of this course the student will be better prepared to sit for any of the three certification exams, depending on their eligibility.
CMA (AAMA) and RMA (AMT) require the examinee has graduated from an accredited (AAMA or ABHES) Medical Assisting program.
CCMA (NHA) requires the examinee have at least one year experience as a medical assistant with employer verification.
Completion of this course does not in any way determine the pass or fail outcome of any certification exam taken by the participant. It is intended as a preparatory course only.
PREREQUISITE: A student must have at least one of the following to enroll in this prep course.
1. Applicants must have graduated from an accredited (CAAHEP or ABHES) program for CMA (AAMA) or RMA (AMT) certification.
2. Applicants must at least one year experience working as a Medical Assistant in an ambulatory care or clinic setting for CCMA (NHA) certification.
This course is taught by faculty from the accredited (AAMA) program at Cape Cod Community College.
Attention Employers: This Training is Eligible for Reimbursement!
This course is eligible for the Commonwealth Corporation Express Program funds. Danielle Dupuis, Program Coordinator, will help employers complete an Express Program application at least three weeks prior to the start of training. Additional training topics and group training rates are also available for Express Program reimbursement. To learn more about qualifying for Express Program funds, please contact Danielle at 508-375-5015 or ddupuis@capecod.edu. We promise you, the application process is quick and simple! 
For additional program information please contact Mary Conklin at 508-375-5010, or mconklin@capecod.edu. 
Zoom guidance and instructions will be provided prior to the start of the course.
Who Should Attend
This course is available to CMA/RMA and CCMA candidates wishing to review the material contained in the Medical Assisting Certification exams including the CMA (AAMA), RMA (AMT), and CCMA (NHA).
Virtual Assistant Certificate (WPG226-65)

Jan 24, 2022 at 4 pm

, runs for 12 weeks
Date: Mon./Wed./Fri., 10/6/2021-12/17/2021, 30 sessions
Time: 4-6pm
Format: Livestream via Zoom
Course Description
Take the first step towards joining this growing field by developing the administrative and technical skills that a virtual personal assistant needs with Cape Cod Community College's Virtual Assistant Certificate program. Students will learn key administrative and business skills to move forward with confidence as an independent contractor (on your own time, at your own pace, and at an affordable price).  
Topics include: 
Organizational Communication
Customer Service
Workplace Behaviors
Business Writing and Document Production
Office and Records Management
Microsoft Office
Virtual Tools (office, administrative, project management)
Remote Meeting Technologies
Introduction to bookkeeping and accounting
Invoicing and invoicing tools 
Why Become a Virtual Assistant
Virtual assistants are independent contractors who provide expert administrative services to clients, typically from a home office setting. As a virtual assistant, you design your own work schedule around your life. Work independently from home, operate your own business, or work as a freelancer or through a virtual staffing company.  
Who Should Attend
If you are interested in being your own boss and creating your own small business then this program is for you! Become an independent contractor, working from your own home or professional office space and on the schedule you choose, to help other like-minded professionals with their administrative and business office needs.
About the Instructors
Our team of dynamic professionals bring decades of experience in the areas of technical, business, administrative, bookkeeping and office management skills to create a one-of-a-kind program designed to propel you into this exciting field! Program facilitators include: Mindy Kole, Mary Jean Huettner, Elaine Moore, Tom Scheffer, Patricia Allen, Susan Martin and Jen Vondenbrink. 
We've Got Your Back - We Can Help
Your success in-and-out of the classroom is the most important thing to us. We also know that going to college isn't easy, especially when you're balancing life outside of school. We have academic support services to help you thrive in your training programs and personal support systems that help you manage your mental health and well-being. Whatever support you need, reach out and we'll help you find it. Call 508-375-5010.
Payment plan available: $350 deposit plus 7 payments of $81.12, paid weekly. Final payment of $81.16.