Filter by Category
Photography
Introduction to Basic Digital Photography (WIT222-64)
with Keith Conforti

Oct 27, 2022 at 6 pm

, runs for 8 weeks
Learn how to unlock your creativity with your digital camera. Students will learn the fundamentals of photography by taking advantage of the features and functionality specific to their own digital camera. This course will focus on the technical aspects of digital photography: proper basic settings, lens selection, image file formats, exposure settings, and developing a digital workflow. Then we will explore the art of photography: composition, depth of field, storytelling, and themes. We will build on your abilities each week through various assignments created to reinforce the topics you've learned. Students should bring their cameras and manuals to class. Digital SLR or mirrorless cameras with interchangeable lenses required, tripods recommended. 
Course Format 
This program is offered in person. All programs with in-person (on campus) classroom instruction at Cape Cod Community College require students to provide proof of COVID-19 vaccination prior to participation.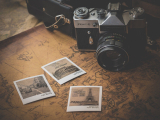 Edit Like a Pro: Adobe Photoshop for Photography (WIT225-64)
with Keith Conforti

Dec 15, 2022 at 6 pm
This Adobe Photoshop course teaches you how to edit your photos like a pro. You will learn sizing, cropping, retouching, masks, layers and coloring. Also offered are tips and shortcuts so you'll know everything you need to do to create the best possible versions of your photographs. You will complete a series of photo projects that will put your skills to the test. Your instructor, a professional photographer with years of Photoshop experience, will review your work and give you feedback.
Class Format
Take this course from the comfort of your home or office! This course is offered remotely with scheduled (live) Zoom sessions.