Filter by Category
Civility: Building a Respectful Workplace
Crash Course in Human Resource Management for HR Professionals (WPG492-66)
with Monet Viens

Jan 26, 2021 at 6 pm

, runs for 2 weeks
This course has been developed for new HR professionals and supervisors and managers with HR responsibilities.
Learn the many diverse components of successful Human Resources management, from legal hassles to interpersonal disputes and benefits to compensation issues. Topics include:
HR Law update 2020-2021
How to clearly communicate employee benefits
How to identify and prevent workplace harassment including sexual harassment
HR electronic record keeping
Effective interviews to hire the right people
This course is offered in a remote learning capacity. Zoom guidance and instructions will be provided prior to the first session. 
At Your Service: Skills Training for the Modern-Day Customer Service Professional (WGB457-66)

Mar 1, 2021 at 4 pm

, runs for 5 weeks
This course is designed for the person who is client focused and wants to excel in the service they provide. In the past, customer service was not viewed as a valuable skill or an asset that can really impact a company's success. In our modern world living with new limitations, skilled Customer Service Professionals are not only in demand, but an ESSENTIAL part of our society.
As important as our first-responders, educators, and other skilled workers; Customer Service Professionals make up the front line workforce. This course is designed to teach todays' worker skills to provide superior customer service. As Zappo's founder Tony Hsieh said: "Customer service shouldn't just be a department; it should be the entire company." That applies to employees, from the president to the entry level worker.
LEARNING OUTCOMES FROM THIS PROGRAM INCLUDE: 
An understanding of what customer service involves
A knowledge of customer service culture
Basic customer communication skills
Knowledge of customer service and behavior
Skills for handling customer problems
Skills for managing personal stress and time while serving customers
Skills to enhance customer relationships
The importance of customer service in a customer-oriented business or organization
Analyze the attributes necessary to provide excellent customer service
Assess customer needs and effectively utilize good customer service skills to achieve customer satisfaction
Apply effective communication skills in a customer service setting
Recognize and describe how to deal with difficult customers
Evaluate the effectiveness of various customer service techniques
This is an online program with two scheduled launch and wrap up sessions via Zoom. Zoom guidance and instructions will be provided in advance of the first session.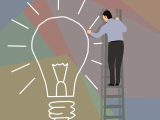 Senior Leadership Strategies in Today's Workplace (WPG369-64)
with Rich Weissman

Apr 6, 2021 at 9 am

, runs for 4 weeks
Employer Grant Funds Available! If you would like to find out if your employer is eligible to send their employees at no-cost (highly likely), contact Danielle Dupuis, Program Coordinator, at ddupuis@capecod.edu prior to registering for this program. 
Today's complex business environment calls for a new approach to leadership. Although traditional roles are still woven into the way people work, leaders must now think as a visionary, coach and catalyst. 
This 24-hour intensive program will provide leaders and executives with the practical skills needed to enhance their leadership style and provide participants with insights into their own problem solving, decision making, conflict resolution, teamwork, and communication skills.
The Senior Leadership Program will focus on the following core topics:
Define strategic leadership mindset and its benefits and difficulties, understand the difference between an operational and strategic mindset, and understand your own organization's culture, identifying gaps and learning strategies to narrow those gaps.
Understand the stages of change and transition using the William Bridges and Fischer models, learn the different types of plans required to implement change, and apply the change and planning models to a current or upcoming change in your organization.
Review the four DISC styles and how they affect communication, learn the differences in generational mindsets and the impact on communication, and apply DISC and generational mindsets to practical situations.
Understand the importance of negotiation and conflict management, learn the steps of effective negotiation, and learn how to develop negotiation and conflict management skills in your staff.
Learn how an engaged multigenerational workforce affects your attraction and retention strategy, learn the succession planning process, and apply attraction and succession planning strategies to your organization.
This course is offered in a remote learning capacity. Zoom guidance and instructions will be provided prior to the start of the course.