Filter by Subcategory
Aviation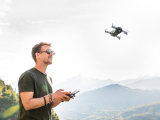 Flying Drones for Recreational Use
with Larry Harman

Jul 8, 2023 at 9:30 am
"Flying Drones for Fun" has taken on new meaning as the Federal Aviation Administration (FAA) has carved out special roles for the recreational users of small drones, certified commercial drone pilots, and supported the collection and analysis of aerial imagery. The US Department of Transportation has also encouraged community colleges to play a supportive role in training drone pilots to understand the significant differences under Federal law in flying drones for fun and flying drones for work.

At the same time, the manufacturers of drone hardware and drone software are constantly offering new products and services with improved capabilities at lower costs.  The FAA has revised regulations operating drones over people and at night. In the Fall of 2023, a Federally mandated system will be deployed that identifies individual drones in flight and their remote pilot's location on the ground (Remote ID).  The goal is to improve the safety of the National Air Space by deconflicting small drone operations and crewed aircraft through out the U.S.
The Center for Corporate and Professional Education (CCAPE) at the Cape Cod Community College is supporting these air safety initiatives with short, hands-on courses that:
Supports the FAA rules and regulations for remote pilot knowledge.
Provides an understanding of the current drone marketplace
Improves basic drone flying skills.
Provides an understanding of imagery collection and analysis software.
Taught by small Unmanned Aircraft Systems (sUAS) noted industry expert Lawrence Harman, co-director of the GeoGraphics Laboratory at Bridgewater State University and a licensed FAA-certified Remote Pilot in Charge.
Class Format: This program is offered in person.
AMT Pathways Program - Module One
with Michael Sasso

Oct 2, 2023

, runs for 15 weeks
Aviation Maintenance Technology (AMT) "Choose Aerospace" Pathways Program - Module One
Begin your path to a degree in AMT completely online while you're still in high school!
Program Cost: Two-module program, $1,275 per module
Module One Program Dates:  January 17, 2023 - April 28, 2023
Module Two Program Dates: October 2 , 2023 - January 19, 2024 
Program Schedule: 3-days per week engaged in online learning, 1-weekly Zoom call with an AMT instructor, and 1 on-campus session per month working hands-on in our labs at Plymouth Municipal Airport. 
What is the AMT Pathways Program?
Cape Cod Community College is home to the region's premiere education and training program for Aviation Maintenance Technology (AMT). With three hangars filled with real aircraft located at Plymouth Municipal Airport, our program has been building aviation careers for students since 2017, sending dozens of graduates into rewarding, powerful careers.
With a need at both a local and national level for AMT professionals on the rise, we're taking our program online so that we can partner with area high schools to create a seamless Pathways program, allowing you to start training while you're still in high school.
You can take this one-of-a-kind online, remotely, and through our state-of-the-art "hyflex" model, which allows you the freedom to learn under the watchful eye of an FAA Certified Instructor, including weekly check-ins, reviews and learning opportunities with an additional lab component that can be scheduled monthly or through a 2-week summer program.
Through the program, you'll:
Be ready to take the Federal Aviation Administration (FAA) General Certification Written Exam, placing you on the road to a full A&P Certification, getting a 2-semester leg-up on the certification training and process.
Have the opportunity to use your certification to transfer to the AMT degree program at Cape Cod Community College or any of the other FAA Part 147 technical schools across the U.S.
How Does It Work?
This online-based AMT curriculum is the first of its kind, developed by the aviation community and offering soon-to-be maintenance professionals a direct path to a rewarding career. It aligns with the emerging FAA Mechanic Airman Certification Standards (ACS) to cover the knowledge and skills needed for the FAA Mechanic Certification.
Through a nationally recognized e-learning platform, students receive their education and training in multiple ways. This includes traditional methods like classrooms and in-person training on real aircraft at the 4Cs AMT hangars at Plymouth Municipal Airport, and online methods such as video lecture, e-books, and virtual/augmented reality simulations.
Questions?
Contact Michael Sasso, Aviation Maintenance Director, at 508-375-5050 or msasso@capecod.edu.